You can help us spread our mission to create a healthier community through hands-on cooking classes and nutrition education by volunteering with us. Without the help of our dedicated volunteers, we wouldn't have the impact we do in the New Orleans community. Many volunteers are Tulane students, but we also have community members who assist in our cooking classes. Volunteers help with everything from class preparation to hands-on culinary skills assistance for our class participants. Don't know how to cook? No experience is necessary – we will teach you what you need to know!
Duties May Include:
Pre-class setup & breakdown at the end of class
Helping to maintain a safe, fun environment for all
Providing our class participants with a positive experience
Guiding class participants through recipes, ingredients, and cooking techniques
Cleaning and maintaining the kitchen facility
Assisting in operational and organizational tasks
Our Ideal Volunteers Have:
A positive attitude!
A willingness to learn from our dedicated staff and interns
A desire to help educate the community about food, nutrition, and cooking
What You Get:
Enhanced nutrition knowledge and improved culinary skills
The reward of knowing you are helping to positively impact the health and wellness of your neighbors in New Orleans
Networking with other volunteers and community members who are interested in health and nutrition
Tulane students are eligible for service-learning hours and upper-tier service credit
A free meal full of delicious, nutritious food at the end of each class!
What some of our Volunteers Have to Say:
"The welcoming fun environment and kind hard-working people at The Goldring Center for Culinary Medicine are what make it the place it is and what shaped my experience to be so amazing and memorable. Going to my shifts became a part of my weekly routine and something that I looked forward to every Friday. I was able to work alongside other Tulane students, Medical students, as well as the Goldring Staff and I learned something different from everyone. My time here also furthered my interest and knowledge in health and nutrition, and I have been inspired by the different recipes incorporating variations of what we used in the classes into my meals and snacks."

– Dini Eisele, Tulane University, BSM in Finance & Marketing, Class of 2020
"While working towards my master's degree at Tulane University, I had the opportunity to serve the New Orleans community by volunteering at the Goldring Center for Culinary Medicine. My responsibilities ranged from community outreach to standard kitchen operations, but I think my most impactful job involved assisting with the cooking and nutrition classes. During these classes, I worked directly with community members to help them understand nutritional concepts and apply the classroom cooking skills in their daily lives. I found it most rewarding when the participants returned the following week to excitedly tell us how much their family enjoyed one of the healthy, affordable recipes that they had learned. The interaction with the participants made me feel more like a member of their community, and I felt like I could connect with them through these educational experiences. My time at the GCCM has helped me realize my desire to be both an educator and a friend to my community."

– Anthony Elias, Tulane University, MS in Cell & Molecular Biology, Class of 2019
"The hours I spend volunteering at the Goldring Center are the best part of my week! My experience has not only transformed my own understanding of food and health but also has shown me how culinary education can improve the health of populations. As a public health student at Tulane, it has been a tremendous privilege to work alongside such dedicated individuals at the fore of the culinary medicine field. I have thoroughly enjoyed building relationships with members of the New Orleans community and I am sure I will continue to value my experiences at the Goldring Center going forward."

– Sophie Guzikowski, BS in Public Health, Class of 2020
To Sign Up and For Details on Specific Shift Availability: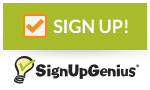 For more information or any questions about volunteering, please contact our Chef Heather: hnace@tulane.edu